Search Catalogs
Montana Talking Book Services Online Catalog
The online catalog is directly tied to the MTBS internal collection of available physical books, as well as a direct link to downloadable books from BARD. Search features include both basic and advanced search options. In addition, a member of MTBS can request books be added to their personal profile just by logging in to the online catalog with their personal MT1A ID and pin number. To obtain a personal ID and pin number, either email mtbl@mt.gov and ask for an online catalog account, or call 1-800-332-3400 and ask to speak to your Readers' Advisor.
Ordering books from the online catalog to be added to the Patron Request List
The online catalog offers options to first search the catalog, find the results, log in and add to the patron book basket; or, first log in, search the catalog and then add the search results to the book basket. Requests are honored on a first come, first serve basis, being mailed via USPS the next business day.
Downloading books from the MTBS Online Catalog
Upon receiving search results, open the book title link, find "Document Link" and open the "Downloadable talking book" link. This will guide you directly to the BARD website to log in and download the book. Once logged in to BARD, the book will immediately start downloading. Be ready to direct the download to either your device, a thumb drive, or a designated folder in your computer.
Search the online catalog by opening the following link: MTBL Online Catalog
National Library Service (NLS) Catalogs
Quick Search is a text-only version of the NLS Catalog. To search for a book on Quick Search, open the following link: QUICK SEARCH 
Voyager is a graphic version of the NLS Catalog. To search for a book on Voyager, open the following link: VOYAGER 
Talking Book Topics
The National Library Service (NLS) publishes a bimonthly catalog of newly recorded NLS audiobooks titled "Talking Book Topics".  Contact your Readers' Advisor to subscribe to a large print subscription, or view the latest TBT on the NLS website, https://www.loc.gov/nls/tbt/.
MTBS Recording Studio Catalog
MTBS's in-house Recording Studio records local interest books by Montana authors or about Montana history. Contact your Reader's Advisor to order any of these titles.  Or download and mail the order form below (remember to include your name on the order form!).
No Story Should Go Untold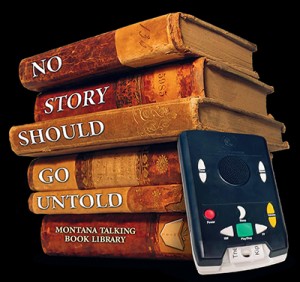 Sometimes the best words on the page aren't on the page. That's why Montana Talking Book Library offers high quality audio books and magazines recorded by trained narrators for your reading pleasure. Because No Story Should Go Untold.