Contact Montana Talking Books
MONTANA TALKING BOOKS
PO BOX 201800
HELENA, MT  59620-1800
Phone:  406-444-2064 (local) or 1-800-332-3400 (toll-free in Montana)  
TTY/TTD:  406-444-4799
Office Hours:  8:00 a.m. to 5:00 p.m. Monday – Friday      


Regional Librarian/Supervisor
Marilyn Bennett
406-444-2064
Director Recording and Volunteer Programs
Erin Harris
406-444-5398
Any questions or concerns regarding the content or copyright compliance of this website should be sent to mtbl@mt.gov.
No Story Should Go Untold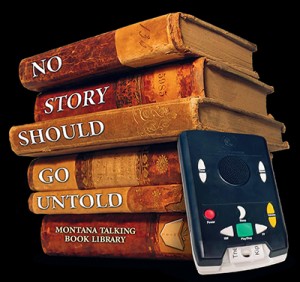 Sometimes the best words on the page aren't on the page. That's why Montana Talking Books offers high quality audio books and magazines recorded by trained narrators for your reading pleasure. Because No Story Should Go Untold.