Land Use/Land Cover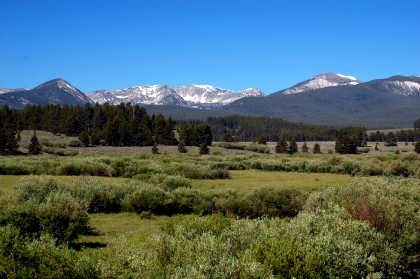 The Land Use/Land Cover (LULC) Framework records natural biological communities, disturbances (e.g., pests and invasive species, fire), and human activities.
Map units are based on an Ecological Systems mid-scale classification adapted for Montana and can be crosswalked to the US National Vegetation Classification.
Data and Documentation
The Montana land cover map released in 2023 is based on the Landfire Existing Vegetation Type (EVT) product from 2016 (LF 2016 ReMap), which takes into account biophysical gradient data, field data, elevation, and Landsat imagery when assigning pixels to the terrestrial ecological systems classification developed by NatureServe. The EVT was revised for Montana in part using Montana Ecogroups as a coarse filter for identifying anomalous pixels. Incorrectly classified pixels were reclassified using high resolution color imagery and contextual layers, including potential vegetation information available through soil surveys. This Montana Land Cover map product can therefore be considered more closely aligned with a potential vegetation model compared to future Landfire EVT products based on an updated National Vegetation Classification (NVC) system more directly aligned with existing vegetation.
There is also a Montana Land Cover Framework is available for 2010 – 2017. The framework contains eight consecutive years of land cover rasters that reflect routine updates to burned areas, agricultural land use, and Transportation and Structures themes. It also incorporates high resolution vegetation mapping products as they became available for recently burned, insect-killed forest, and introduced vegetation. There are three levels of grouping that can be displayed at ANY scale. Beyond 1:2,000,000 scale, the default grouping is Level 1, with 8 broad categories. From 1:2,000,000 to 1:250,000, the default is Level 2, with 27 categories. Beyond 1:250,000, each Land Cover value has its own unique value, and corresponds to Level 3 ecological systems.
View MSDI Land Cover Web Service
This service displays the MSDI Framework Land Use/Land Cover as compiled by the Montana Natural Heritage Program.
Download MSDI Montana Land Use/Land Cover Data
Land Use/Land Cover data are provided for the entire state of Montana as an Esri file geodatabase and geotiff formats. The data are stored in the Montana State Plane Coordinate System. 
Reference Metadata
For more information on the Land Use/Land Cover categories used in the data, see the Montana Ecological Systems Field Guide and the Ecological Systems Field Guide Help File. For more information on vegetation classification systems and crosswalks see the National Vegetation Classification System Standard.
The Montana Ecogroups were developed under the new Land Cover effort and based on the USDA-NRCS Major Land Units (MLRAS); the USFS Ecological Unit Hierarchy; the EPA Ecoregions; and the HU8, HU6 and Basins level of Hydrologic Unit mapping. The final 747 ecogroup map units represent scale and site refinements and modifications to the MLRA, ECOUNIT and Ecoregions delineations while retaining the unaltered hydrologic units. Ancillary data from NED 10m DEMS, geology, mountain ranges hydrography and NAIP were referenced in the refinement of map units.
MT_EcogroupsL1 has the 14 Level 1 Ecogroup polygons
MT_EcogroupsL2 has the 2,944 Level 2 Ecogroup polygons
MT_EcogroupsL3 has the 747 Level 3 Ecogroup polygons
Applications
Ecological Site Reviewer Application - The Ecological Site Reviewer (ESR) is an ArcGIS online web map application that displays biophysical data such as soils, elevation, slopes, aspect, frost-free days, landscape level ecological units, ecological sites, classified vegetation and background locational data. The ESR can be used for site preliminary site evaluation, navigating to locations of interest, assessing key environmental attributes, generating maps, and suggesting edits to the data layers. Help Document are also available.
The Montana Natural Heritage Map Viewer is an interactive map that can perform a variety of tasks to access and use MTNHP databases and information. It includes tools to view and query land cover data and land management data. It has tie-ins to the Montana Field Guide and allows users to access and view over 12,000 geo-referenced photos of habitats across Montana.
About
The Land Use/Land Cover Framework is a baseline digital raster map of Montana natural and human land cover. The Framework uses ecological systems and human land uses as its mapping units. Ecological systems occur in similar physical environments, and are influenced by similar events such as flooding, fire, wind, and snowfall. They can be classified from aerial or satellite imagery, and are easily identifiable in the field. Primary users of this theme include county planning and engineering departments; state, federal, and tribal resource management agencies; private sector businesses such as engineering and environmental consulting; and non-profit land and watershed conservation groups. Because pixel size for the data is 30m, the data are best used at a 1:100,000 scale or greater.
Additionally, the Montana Natural Heritage Program field guides, interactive web map products, and predictive distribution models all rely on the land cover theme as a base dataset.
Theme Lead
Jessica Mitchell
Spatial Analysis Lab Director
Montana Natural Heritage Program
jessica.mitchell@mso.umt.edu
(406) 243-5196 (lab) | (406) 544-9256 (mobile)