About
Montana residents who are unable to use standard print materials due to visual, physical, and/or reading disabilities can apply for Montana Talking Books. Services focus on free loan of braille and digital audio library books and magazines delivered two ways: 1) free mail loan of braille and digital audio books (with playback equipment) and/or 2) downloadable braille and audio books and magazines for patrons who have high-speed internet. Eligibility is determined based on NLS (National Library Service) standards.
Montana Talking Books employs five staff and receives support from many volunteers.  Readers' Advisors advise and assist library patrons by researching desired audio books and magazines. Staff also offer one-on-one support to patrons who download from the NLS online BARD (Braille and Audio Reading Download) website.  We offer inter-library loan services between participating talking book libraries. Braille embossed books are also available free to active patrons of Montana Talking Books.
Schools, public libraries, nursing homes and other institutions (such as independent or assisted living facilities) can participate in talking book and magazine services as a direct link to eligible individuals they serve.
Montana Talking Books receives the majority of its digital audio book collection from NLS, a division of the Library of Congress.  Montana Talking Books has in-house recording studios where volunteer teams record Montana-interest books and magazines (e.g. books by Montana authors, Montana history, Montana The Magazine of Western History, published by the Montana Historical Society, and Montana Outdoors, published by Montana Fish, Wildlife, and Parks).  
To apply for this service, contact the Montana Talking Books at 1-800-332-3400 (toll free in-Montana), 406-444-2064, 406-444-4799 (TTY/TTD), mtbl@mt.gov, or open the following links to fill out the INDIVIDUAL or INSTITUTION application.
No Story Should Go Untold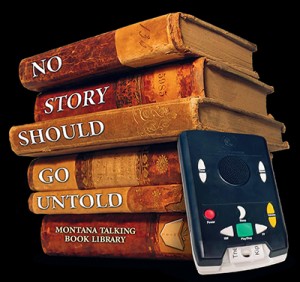 Sometimes the best words on the page aren't on the page. That's why Montana Talking Books offers high quality audio books and magazines recorded by trained narrators for your reading pleasure. Because No Story Should Go Untold.